---

---
Four Methods of Adding Totals to a List
Keywords: Filter, Subtotal, Sort, DSUM, Database, Array. Pivot Table
Description: Example of using subtotals, array formulas and database formulas to add totals to a list of data on a worksheet
Tip: You can add totals to a list of data on a worksheet in many ways. You can use an AutoFilter and sort and subtotal the data. Excel provides array formulas that can be used to process an entire list of data. Database functions return totals according to a criteria range. A Pivot Table automatically creates totals.
Guide to the Example: Each worksheet contains a list of hours worked by employee and totals from that list by employee for the week 5/20/96 - 5/26/96.
Download File: Click Here
Tip: Click on the link above and choose "Save" to download the xls workbook to your hard drive or "Open" to open the workbook inside of your browser.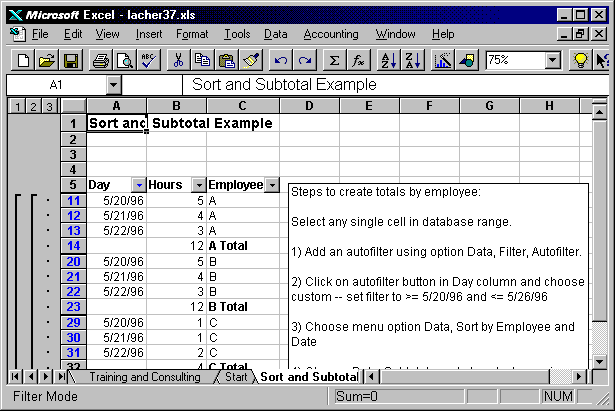 Last modified: May 21, 1996